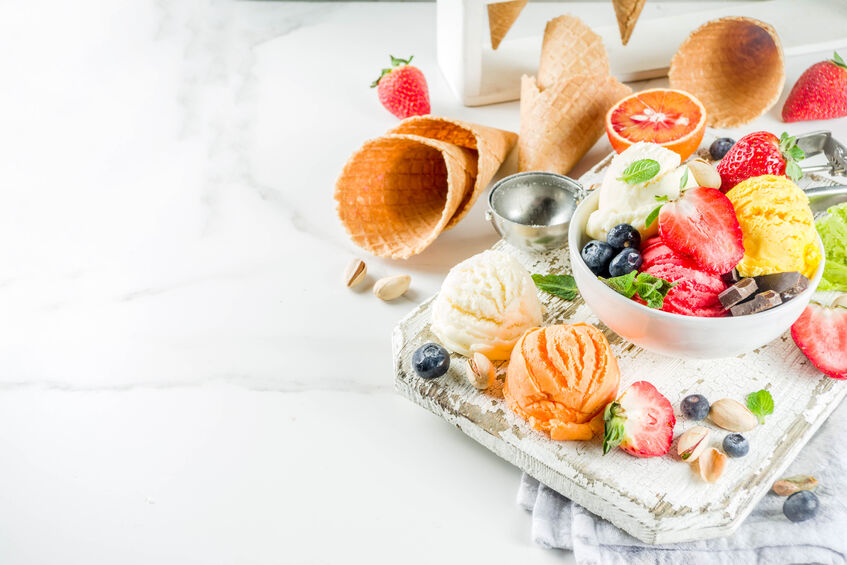 Snow, rain, or sun, there will be times when you'll have cravings that only sweets can satisfy…and let's be honest–desserts are so much more delicious when you don't have to make them yourself!
Below, we're covering all of the favorite local dessert spots that Breckenridge has to offer, as well as some specialty shops to help you get your sweet on in a fun, new way.
Read on to learn more about the best desserts that Breck has to offer!
1. Stir-Pan Creamery
Ice cream lovers, rejoice! This unique ice cream shop introduces sweet lovers to an entirely new world of ice cream flavor and format. Your ice cream will be made fresh to order and rolled against nitrogen-frozen bricks of steel–giving you the chilliest, creamiest consistency you've ever tasted. Pile your stacks high with your favorite toppings of choice, or explore any of the shop's pre-created pairings for a unique take on your favorite dessert! Favorite blends include:
Banana pudding
Espresso n' cream
Chocolate pretzel
Key lime pie
Be sure to visit the Stir-Pan Creamery website and connect with the staff to learn more about seasonal flavors and limited-time options.
2. Mimi & Pin Churros and Waffles
Churros and waffles are staples in the customizable treat community, giving you the perfect foundation of sweet bread and sugar to add your favorite toppings. Mimi & Pin decided to capitalize on both dessert styles with their latest dessert-shop venture, bringing fun, flavor, and protein-packed dessert options to every sweet tooth in Colorado. The catch? Well, there isn't one–except for the fact that you can enjoy these treats completely guilt-free.

That's right…your favorite sweet treat options are made to order and done in a good-for-you way. We can't ask for more with this decadent dessert option!

Try the stuffed churros, piped full with dulce de leche, Nutella, or coffee cream filling. If you're looking for something more filling, we recommend any of the Belgian waffle options available!
3. La Française
What if we told you that you could travel to the streets of Paris–without ever leaving your zip code? La Française in Breck is our favorite place to stop for true-to-form Parisian treats. Nestled in the heart of the Rockies, this local favorite is serving up fresh baked pastries, crepes, and coffee drinks to satisfy even the choosiest sweet tooth!
Shop the menu and indulge in treats like the handmade chocolate almond croissants, creme beignets, and fresh-baked brioche swirled with rich cinnamon or plump, juicy raisins. There's no wrong way to enjoy at this French-inspired eatery!
4. iScream Gelato
The only thing that could make ice cream better is convenience. With iScream, you can have it all! This artisan gelato shop offers custom, luxury flavors that can be conveniently delivered to your doorstep or picked up at the shop. The menu is extensive, offering unique flavors and toppings such as:

Vegan Wildberry
S'mores
Cheesecake
Vegan Lemon
Coffee
Cotton Candy
Peanut Butter Syrup
Heath Bar
We really appreciated seeing vegan options in such a dairy-dominant dessert style and type. There truly is something special here for even the most restricted palate! Sizes are generous too. In fact, you can order up to 2.5 pounds of creamy Italian gelato at once with their "Large" cup offering.
List Your Residential Rental in Breck Today
Considering listing your residential rental property? Connect with the experts at PMI Breck. Our team has extensive experience managing and supporting local rentals, and know how to help your short-term residential property shine in the Breckenridge vacation rental market. For more information and to begin your journey today, please visit our website. Or you can give us a call at 970.409.0896. Our team looks forward to connecting with you soon!