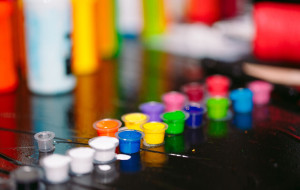 Are you a passionate art lover looking for your next artistic adventure? Then we think you'll love Breckenridge! Our picturesque mountain community is home to an eclectic mix of talented artists and galleries, making it the perfect destination for anyone seeking inspiration and creative stimulation. From contemporary paintings to handcrafted jewelry, there's something for everyone in Breckenridge's vibrant art district. Join us as we explore this cultural hub and discover why it should be on every art enthusiast's bucket list!
What is the art district in Breckenridge?
The art district in Breckenridge is a collection of art galleries, studios, and shops that are all within walking distance of each other. This makes it the perfect place to spend an afternoon exploring the many different types of art on display. There are also a number of restaurants and cafes in the area, so you can make a day of it and grab a bite to eat in between galleries.
The different types of art in the district
The arts district in Breckenridge is home to a variety of different types of art. From the performing arts to the visual arts, there is something for everyone in the district.
The performing arts are well represented in the district with a number of different theaters and performance venues. The Breckenridge Theater Company is just one of the many groups that call the district home. The company produces a variety of shows throughout the year, including musicals, comedies, and dramas. Other performance venues in the district include the Riverwalk Center and the Breckenridge Music Festival Park.
The visual arts are also well-represented in the district. A number of galleries are located in the district, featuring a variety of different types of artwork. The Breckenridge Arts District also features a number of public art installations throughout the area. For those looking to get creative themselves, there are also a a few studios in the district where people can take classes or rent space to work on their own projects.
The history of the district
Breckenridge's art district has a long and storied history. The district was first established in the late 1800s when a group of local artists and artisans decided to set up shop in the town. The district quickly became a hub for creative activity, and over the years it has produced some of the finest artists in the state. Today, the art district is home to more than 20 galleries, studios, and shops, and it is one of the most popular tourist destinations in town.
Why the district is a great place to visit
As already mentioned, Breckenridge's vibrant art scene that is definitely worth checking out. If you aren't already convicned, here are some of the reasons why you should consider visiting the district:
-The district is home to a wide variety of art forms, including painting, sculpture, photography, and more.
-There are many opportunities to purchase original artwork from local artists.
-The district offers a variety of events and programs throughout the year, such as First Fridays, Art Walks, and artist demonstrations.
-The public art installations are definitely worth a visit – they are both visually stunning and interactive.
Conclusion
Breckenridge is an amazing place full of culture and art that should not be missed. The Art District offers a unique opportunity to explore the creative ideas of local artists, while also supporting their work in this vibrant mountain town environment. Whether you are an avid art lover or simply want to get away from it all and enjoy some peace and tranquility, Breckenridge's Art District is a great spot to include on your bucket list. So don't miss out on this spectacular destination; come check out what the Art District has to offer!
And, if you own a home in the area and need help managing your short-term rental properties, PMI Breck has you covered. We provide high-quality short-term property management services to property owners in Breckenridge.