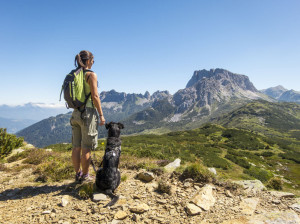 If you're looking for the ultimate outdoor adventure, why not take a hike? Whether you're a dedicated hiker or just someone who wants to explore the great outdoors, Breckenridge has some of the best hikes in the state. From easy strolls to grueling climbs and everything in between, there's something for everyone to enjoy. So grab your hiking gear and let's get exploring! In this blog post, we'll take a look at the top 5 hikes in Breckenridge and discuss what makes them so special. We'll cover what to bring on a hike and also look at the difficulty levels of a few popular hikes. Read on to plan your next outdoor adventure!
The Top 5 Hikes in Breckenridge
Breckenridge is home to some of the best hiking trails in Colorado. Here are the top 5 hikes in Breckenridge:
1. Quandary Peak – This 14,265-foot peak is the highest in the ten-mile range and offers stunning views of the surrounding mountains. The trailhead is just minutes from downtown Breckenridge.
2. Mohawk Lakes – This popular hike takes you to two high alpine lakes, located above the tree line. The trailhead can be found just south of town.
3. Boreas Pass Road – This scenic road winds its way through the mountains, offering spectacular views along the way. It eventually turns into a hiking trail, which leads up to Boreas Mountain.
4. McCullough Gulch Trail – This trail takes you through a beautiful forested area before opening up into a high alpine valley with views of Quandary Peak.
5 . Spruce Creek Trail – This easy hike follows Spruce Creek for about 2 miles before reaching an old mining cabin.
How to Prepare for a Hike
No matter how experienced of a hiker you are, it's always important to take the proper precautions before setting out on any adventure. Breckenridge is home to some of the most beautiful and challenging hiking trails in the state, so it's crucial that you're prepared before embarking on any of them. Here are a few tips on how to get ready for your next hike in Breckenridge:
1. Choose the right trail: Not all trails are created equal. Some are shorter and more suitable for beginners, while others are longer and more difficult. Make sure to pick a trail that's appropriate for your skill level.
2. Pack the essentials: Always bring plenty of water, snacks, and sunscreen with you on any hike. It's also a good idea to pack a first-aid kit in case of any emergencies.
3. Dress appropriately: Comfortable shoes are key, but you'll also want to dress in layers so you can adjust depending on the temperature.
4. Start early: By starting your hike early in the day, you'll avoid crowds and have more time to enjoy the scenery. Plus, it's always best to finish a hike before dark.
By following these simple tips, you'll be sure to have a safe and enjoyable hike in Breckenridge!
What to Bring on a Hike
When packing for a hike, it is important to consider both the terrain and the weather. For example, you will need different gear if you are hiking in the snow versus hiking in the summer. In general, however, there are some items that every hiker should bring on a hike, regardless of the conditions.
First and foremost, every hiker should bring plenty of water. It is important to stay hydrated while hiking, especially in hot weather. It is also a good idea to pack some snacks or energy bars in case you get hungry during your hike.
Other essential items to bring on a hike include a map of the area (if you are unfamiliar with the trails), a compass, a first-aid kit, and a flashlight. If you are hiking in an area with wildlife, you may also want to bring bear spray or another type of self-defense tool.
Hike Difficulty Levels
With so many hiking options, it can be hard to decide which hike is right for you. Be sure to plan ahead and look at the difficulty level of your planned hike ahead of time so you don't run into any surprises. Here is a breakdown of the difficulty levels of some popular trails in Breckenridge:
Easy:
• Quandary Peak: The trail is well-marked and relatively easy to follow. It does gain 4,000 feet of elevation, so be prepared for some uphill sections.
Moderate:
• Boreas Pass Road: This scenic 11-mile road was once a stagecoach route between Breckenridge and South Park. It's now open to hikers, bikers, and four-wheel drive vehicles. The road climbs 2,800 feet, making it a moderate hike.
Difficult:
• Wheeler Trail: This 24-mile out-and-back trail takes hikers through alpine meadows and aspen groves before reaching Wheeler Lake. The lake sits at 12,400 feet, making this a difficult hike with significant elevation gain. Be sure to bring lots of water.
Conclusion
Breckenridge is a beautiful and bustling mountain town with plenty of outdoor activities to keep you entertained. From thrilling ski runs to wonderful hiking trails, the area has something for everyone. We hope this article on the top 5 hikes in Breckenridge has inspired you to take your own hike and get outside while exploring one of Colorado's most popular towns.
Need help managing your short-term rental properties? PMI Breck has you covered. We provide high-quality short-term property management services to property owners in Breckenridge.