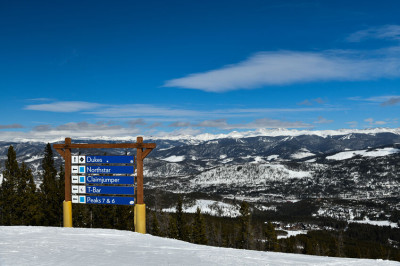 Ah, the excitement of heading down the slopes in Breckenridge. There's really no other feeling quite so exhilarating. But if you're familiar with Breckenridge at all, then you already know about the breathtaking scenery on the slopes, especially when snow is on the ground. What about Breckenridge off the slopes and out of ski season? It's time for you to experience Breckenridge's breathtaking scenery off the ski trails.
When you think of Breckenridge, skiing may be the first thing that comes to mind. You certainly wouldn't be alone, considering that Breckenridge is one of the most popular ski destinations in the country. Amid its 2,908 skiable acres, you will find trails for every level from beginner to expert, and considering that Breckenridge has 187 trails, that shouldn't surprise you.
What might surprise you, though, is to learn that Breckenridge has a thriving arts and culture scene. From visual arts to performing arts, you'll easily fill your days and nights with amazing sights and sounds even away from the slopes. Head to the heart of the Breckenridge Arts District near South Ridge Street and Washington Avenue where you'll find three avenues to experience the arts and culture in Breckenridge.
Visual Art— Whether you prefer to take in the works of the numerous artists who call Breckenridge home or want to create some art yourself, you'll find that opportunities abound. This experience is much more than strolling through art galleries, although you can certainly do that, too. You'll see and experience not only painting and drawing but also printmaking and metalsmithing along with ceramics and textiles. Check out some of the installations like the Eiffel Tower or visit Isak Heartstone, also known as The Breckenridge Troll.
Music — The music scene in Breckenridge is pretty amazing, too. No matter what time of year you choose to visit, you'll find live music. Maybe you prefer to save the music for your evenings out on the town. Maybe you choose to take in the sounds of the National Repertory Orchestra. Or you might head to one of the many year-round performances you can enjoy at the Riverwalk Center. You'll have so many venues to choose from, it might take you all summer. You can find your many choices here.
Performing Arts— You can take in a performance by the Breckenridge Backstage Theatre company at the Breckenridge Theater or head over to the Eclipse Theatre, which is the home of Breck Film. Besides performances, the theatre company has a summer camp and classes for aspiring actors. Breck Film started as a film festival but has now expanded to year-long programming that highlights talented established filmmakers and inspires up-and-coming filmmakers. Don't worry; you can still take in the Breckenridge Film Festival this fall. Ready to take in the art scene in Breckenridge? Check out the schedule of workshops and festivals here.
As you immerse yourself in the arts and culture that Breckenridge boasts, you'll find yourself also immersed in the rich history of the town. The Breckenridge Arts District's heart is located in the historical heart of the town. The renovated buildings that now house so many of the art venues are steeped in the history of our town. Breckenridge's growth as a mining town was enhanced by those people who were willing to take risks and embrace their surroundings. Breckenridge is still a town of creative, entrepreneurial people who want to share and build their community.
If you're interested in becoming a part of the vibrant culture that is the heart of Breckenridge with a vacation rental property, contact PMI Breck for a complimentary rental analysis. We'll be happy to discuss the possibilities and can give you an idea of how successful a location or property could potentially be.